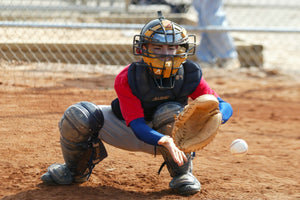 You are all set to get the best first-aid and performance solution delivered to your door! Here's what you are going to get:
#1–THE BEST YOUTH SPORTS FIRST-AID KIT
You get the best first-aid and performance kit, designed specifically for youth sports. We are parents and coaches of youth athletes and designed this kit to specifically address what is needed for youth athletics.
The kits are compact and rugged, and include items not found in standard first-aid kits. We include the good stuff like athletic tape, self stick wrap, elastic bandage, and extra instant ice.
$35 Retail Value
Contents of First-Aid Kit
First Aid Item
                   Quantity
Adhesive bandages
25
XL adhesive bandages
4
Antiseptic cleansing wipe
4
Alcohol prep pads
6
Disposable gloves (pair)
1
Gauze pads 2"
2
Gauze pads 3"
2
Instant ice packs
2
First-aid tape
1
ExL Performance Self-Stick Wrap (large roll)
1

ExL Performance 

Athletic tape
1
Elastic bandage
1
First-aid bag (nylon w/ handle - approx. 7" x 5" x 3")
1
Total Items =

51
#2 – FREE MONTHLY KIT ENHANCEMENTS 
Every month we will send you additional Performance + Aid supplies to include in your kit.  These items may include such things as sunscreen during the summer months, survival blankets in the early spring or late fall, energy and nutrition supplements, and professional-grade medical and first-aid products.
These additional Performance + Aid products are valuable supplies, but are rarely ever found in any other kits.
$60 Retail Value with 6-month membership ($10 Retail Value monthly)
(*Please note the items pictured are a representative sample of items that may be included in mailings. The actual contents will vary.)
#3 – FREE UNLIMITED REFILLS ON-DEMAND

Guaranteed to Never Run Out!
The best part of the service is the unlimited, on-demand, free kit refills.
The kit is compact so it is easy to manage, but we know you will run out of key supplies. That's why we give you unlimited free refills during your membership.
You can request the free refills anytime during your membership and we will send the supplies directly to you.
You will not run out of what they need – and you won't be hassled with having to restock the kits.
We offer all of this for only $59 total for a 6-month season + free shipping on everything - the kit, the monthly enhancements, and all the refills.
The Performance + Aid Kit and the monthly enhancements alone are worth $95, even if you never order any refills.  Plus we save you the hassle of finding and buying supplies, and restocking the kits.  We handle all of that for you!
Compare the service, the products, and the price to what you are currently doing.
You can probably find a cheaper kit – but that is what it is, a cheaper kit full of stuff you won't use and lacking the items you will need.
You can probably find a kit that brags about having the most items – but look at what they put in there to bulk up the item count  –  its stuff you'll never use like a dozen Q-tips or safety pins.
We put in the good stuff – the items you will want and we make a compact, durable, easy to use kit.  Plus we eliminate the hassles of managing and refilling the kits. 
So . . . now is the time to say goodbye to these hassles.
Let us take care of the first-aid kits for you –  this way
you have one less thing to deal with
and you can focus on the important things